2018 MLK BASKETBALL CLASSIC STORY
Fantastic Finish Highlight of 2018 MLK Basketball Classic
The Fifteenth Annual Tucson Unified School District MLK Basketball Classic presented by Coaches for Charity provided a full day of entertaining basketball on Monday, January 15th, capped off with a fantastic finish as Mountain View toppled previously undefeated Sahuaro 49-to-47 when Elijah Elmer tipped in a rebound with one-second to go in the game for the Mountain Lion victory.
Earlier in the day Baboquivari beat St. David 68-to-43 on a 16-point effort by freshman guard Lucas Jose. Nogales outlasted Rio Rico before vociferous fans at McKale Center 68-to-45 behind 31 points from Samuel Legleu, and Sabino pulled away from Ironwood Ridge for a 55-to-48 victory lead by Daniel Joseph's 19 points.
-story by William Ackerley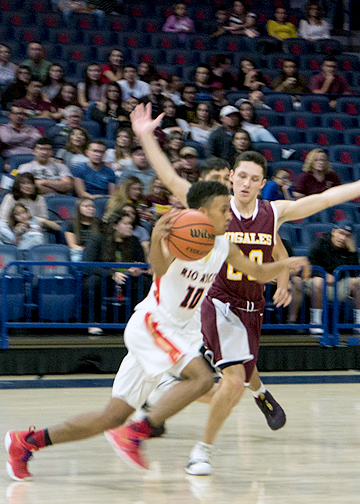 In girls' action at the MLK Classic Summer Fox scored 18 points to lead Pueblo past Sahuaro 45-to-43. Sarah Martin scored 19 for Immaculate Heart for a 54-to-21 win over Santa Rita and freshman April Martinez scored 19 to lead Rio Rico to a 69-to-12 win over Amphi.
Over the course of the day thousands of people attended the 2018 MLK Basketball Classic that commemorated Dr. Martin Luther King, Jr by giving away $7,500.00 in scholarships and by high lighting an honoree who has demonstrated some of the positive traits from Dr. King's legacy from each school.
– story by William Ackerley
The 2018 Honorees include:
Officer Bur Bateman – Santa Rita
Michele Hackett – Immaculate Heart
Joseph Mease – Baboquivari
Melanie Larson – St. David
First Sergeant Larry Brown – Rio Rico
John Willis – Amphi
Liz Thomson – Nogales
Lieutenant Colonel Ronnie St. Clair – Rio Rico
Ken Marrs – Sahuaro
Dr. Augustine Romero – Pueblo
Farrell Miller – Ironwood Ridge
Julie Thompson – Sabino
Lucius Miller – Sahuaro
---