Blog
May 11, 2019 — In Memoriam Dick Tomey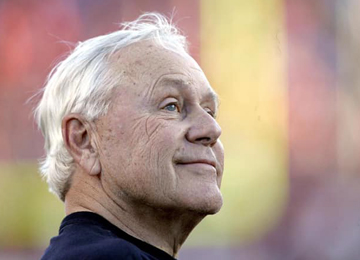 Sorry to hear of Coach Dick Tomey's passing. He was a great coach, mentor and friend. His support of Coaches for Charity has been unwavering. Condolences to Rich Tomey and family.
---
SEPTEMBER 16, 2017 — COACHES FOR CHARITY AZTEC CLASSIC football game
AIR FORCE PREP ACADEMY vs. PIMA COMMUNITY COLLEGE
Thank you Chuck Stopani and family for helping set up and staff the DM50 Tailgate table yesterday, and to Janet Hare and her family for hanging in there and passing out close to 2000 tickets to Davis Monthan Airmen at the Houston/Arizona DM50 Tailgate yesterday. We appreciate your support!
Special thanks to Bob Logan and Chip Yetzer from DM50 for partnering with us, and Robert Santiago from eegees for sponsoring the tickets.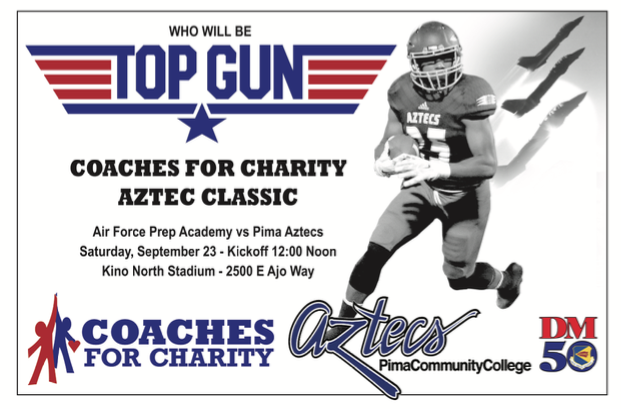 This should be a great event for Pima College and Coaches for Charity! If you would like to help with the game, please let me or Edgar Soto (esoto@pima.edu) know.
Ed Ackerley, President
Edgar Soto, Event Chairman
---
AUGUST 12, 2017 — The COACHES FOR CHARITY Kickoff Classic Banquet took place at 12 noon on Saturday, August 12, 2017 at the Doubletree Hotel. This year COACHES FOR CHARITY honored Ricky Hunley who served as the keynote speaker. Hunley is the first University of Arizona Football Player to be selected as a Consensus All American. He played in the NFL for the Broncos, Cardinals and the Raiders.
The football teams participating in this year's COACHES FOR CHARITY Kickoff Classic included Ironwood Ridge, Marana, Nogales, Palo Verde, Pueblo, Rincon/University, Sunnyside and Tanque Verde.