Bowl-a-thon 2023

Thank you to all those who participated in the 2023 Coaches for Charity Bowlathon to raise funds for elementary school sports equipment.
The event took place on Saturday, June 17th from 10:00 AM – 12:00 Noon at Lucky Strike Bowl, 4015 E Speedway Blvd. Together we raised $2,321.00 for Manzo Elementary School.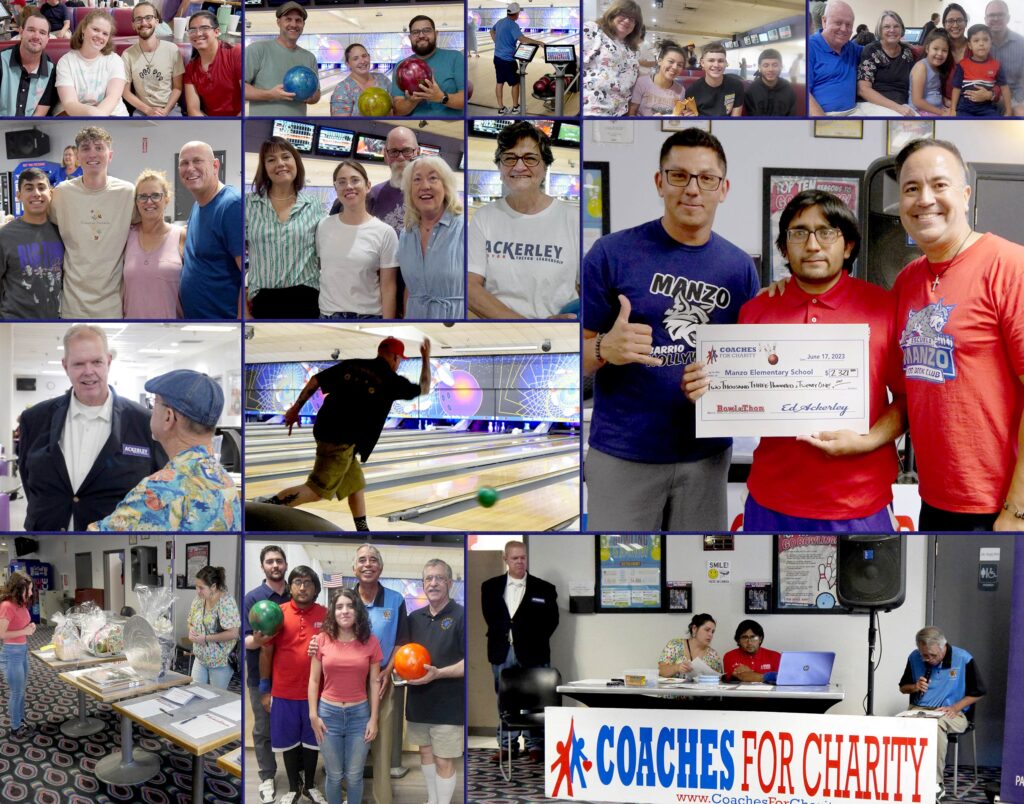 Thanks to the Coaches for Charity Bowlathon Committee and Volunteers and Co-chairs William Ackerley and Alejandro Delgado Lopez.
Thanks to the Coaches for Charity 2023 Bowlathon lane sponsors:
Alejandro Delgado (8 lanes) –Roskruge Cougar Classic, Roskruge Cross Country Meet, TUSD Interscholastics, Roskruge Softball Tournament, Manzo Elementary School
Steve Escobar – Manzo Elementary School
Carlos Delgado – Tidy Up Yard Service
Kris and Rosina Ritzmann – 2KR Consulting, LLC.
Janet Hare – Doubletree Hotel at Reid Park (two lanes)
Pat Darcy – Pima County Sports Hall of Fame
Jacob Barr – iRapture.com
Hunter Ackerley – Cervical Cancer Awareness and Prevention – Hosted by Alejandro Delgado
Jeff Ronstadt – Ronstadt Insurance
Michael Boese – The Boese Family
Dr. Ed Ackerley – Ackerley for Mayor Campaign
Thanks to this year's silent auction contributors:
Janet Hare – Doubletree Hotel and Reid Park
Kathy Krucker Photography
Ed Meyer – Residence Inn Tucson Williams Center
Elvin Sanders – Strike fit Bowling Supply
Russell True – White Stallion Ranch
Dr. Ed Ackerley – Sabino Football Card, BJ's Card Etc.
Chris Hazlette – Golf N' Stuff
Treasures for Teachers Tucson – Gift Basket
Please click the link below to donate to next year's event: