ARIZONA BOWL KICK & THROW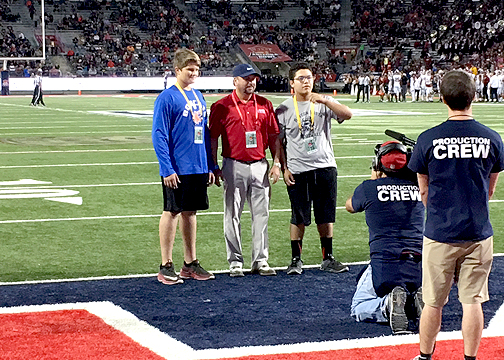 "Coaches for Charity is proud to announce the winner of the Arizona Bowl Kick & Throw Contest.  Over the last several weeks, student athletes from area middle schools have competed in the Kick & Throw Contest.  Coaches for Charity partners with the Arizona Bowl to raise scholarship funds for student athletes in southern ARIZONA. Coaches for Charity presents  the MLK Basketball tournament, Coaches for Charity Baseball Invitational, and High School football Kickoff Classic among other events throughout the year. You can learn more at Coaches for Charity dot org."
— Arizona Stadium Public Address Announcer
---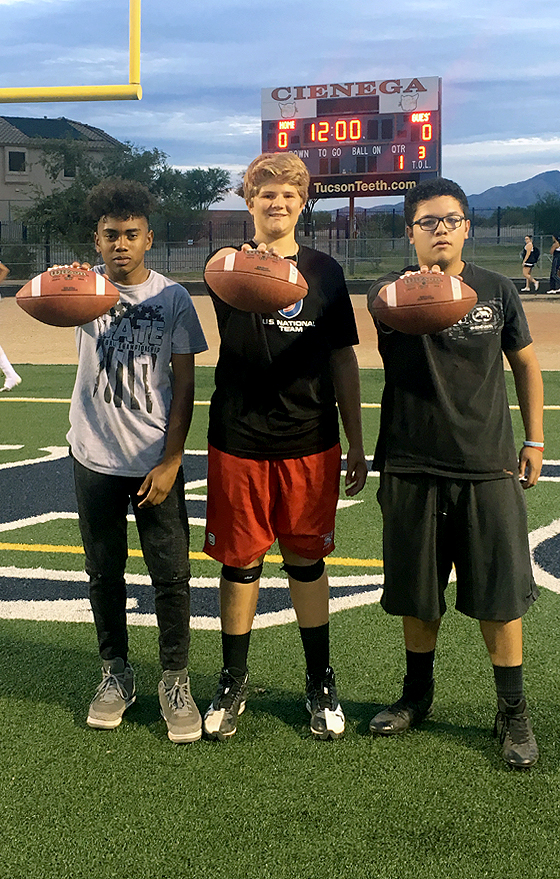 FINALISTS:  Gabriel Palimo-Roskruge, Michael Masanas-Emily Gray, Steven Segovia-Rincon Vista, Jacob Reyna (not pictured)-St. Cyril
The two finalist from the November 4, 2017 event held at Cienega High School are Michael Masanas from Emily Gray and Steven Segovia from Rincon Vista. Michael and Steven will be introduced at the half-time of the Arizona Bowl on December 29th.
---

Participants can be in 6th, 7th and 8th grade who play at schools and organized sports teams in southern Arizona. Coaches/Athletic Directors will recommend boys/girls who will be eligible to compete (nominate). Parents will sign a Release and Consent form for participants.
PRELIMS – Saturday, October 28, 2017 9:00am Sahuaro High School
FINALS – Friday, November 4, 2017 5:00pm Cienega High School
AWARDS – Friday, December 29, 2017 – winners announced Arizona Bowl halftime
Click HERE to download Release and Consent Form.
For more information or to register call Chuck Stopani, Chair – (520) 990-4403
email: stopanic@vailschooldistrict.org