MLK Basketball Classic
Monday, January 21, 2019
The MLK Basketball Classic is a daylong community event Commemorating Dr. Martin Luther King, Jr. The annual event that began in 2004 takes place each January in Tucson at McKale Center at the University of Arizona. Boys and Girls' teams play in seven consecutive basketball games beginning at 11:00 AM and continue late into the night. It is a wonderful chance for these high school students to participate at a college venue in front of a large and enthusiastic crowd.
Cultural awareness and good sportsmanship/citizenship are celebrated through an essay contest and by honoring student-athletes at the basketball event, showcasing student performances of the national anthem and halftime cheer/dance team presentations as well as recognition of faculty and administrators.
The MLK Basketball Classic is sponsored by Tucson Unified School District and is presented by Coaches for Charity.
2019 MLK Basketball Classic Schedule
11:00am The Gregory School vs Buena  Boys
12:30pm Tanque Verde vs CDO  Girls
2:00PM Sahuarita vs Catalina Boys
3:30PM Salpointe vs Flowing Wells  Girls
5:00PM Palo Verde vs Amphi  Boys
6:30Pm Sahuaro vs Sabino Girls
8:00PM Tucson vs Ironwood Ridge  Boys
---
If you would like to support Coaches for Charity at the MLK Basketball Classic you can do so by purchasing an advertisement in the printed program.  For more information contact bill@ackerleyadvertising.com.
---
Fantastic Finish Highlight of 2018 MLK Basketball Classic
The Fifteenth Annual Tucson Unified School District MLK Basketball Classic presented by Coaches for Charity provided a full day of entertaining basketball on Monday, January 15th, capped off with a fantastic finish as Mountain View toppled previously undefeated Sahuaro 49-to-47 when Elijah Elmer tipped in a rebound with one-second to go in the game for the Mountain Lion victory.
Earlier in the day Baboquivari beat St. David 68-to-43 on a 16-point effort by freshman guard Lucas Jose. Nogales outlasted Rio Rico before vociferous fans at McKale Center 68-to-45 behind 31 points from Samuel Legleu, and Sabino pulled away from Ironwood Ridge for a 55-to-48 victory lead by Daniel Joseph's 19 points.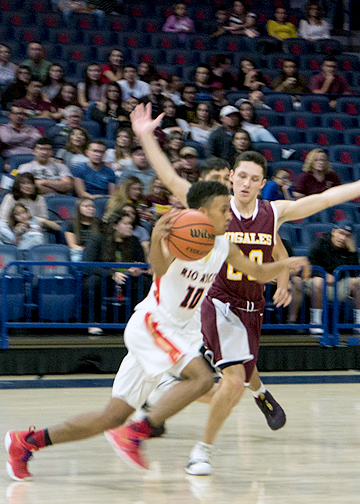 In girls' action at the MLK Classic Summer Fox scored 18 points to lead Pueblo past Sahuaro 45-to-43. Sarah Martin scored 19 for Immaculate Heart for a 54-to-21 win over Santa Rita and freshman April Martinez scored 19 to lead Rio Rico to a 69-to-12 win over Amphi.
Over the course of the day thousands of people attended the 2018 MLK Basketball Classic that commemorated Dr. Martin Luther King, Jr by giving away $7,500.00 in scholarships and by high lighting an honoree who has demonstrated some of the positive traits from Dr. King's legacy from each school.
The 2018 Honorees include:
Officer Bur Bateman – Santa Rita
Michele Hackett – Immaculate Heart
Joseph Mease – Baboquivari
Melanie Larson – St. David
First Sergeant Larry Brown – Rio Rico
John Willis – Amphi
Liz Thomson – Nogales
Lieutenant Colonel Ronnie St. Clair – Rio Rico
Ken Marrs – Sahuaro
Dr. Augustine Romero – Pueblo
Farrell Miller – Ironwood Ridge
Julie Thompson – Sabino
Lucius Miller – Sahuaro
---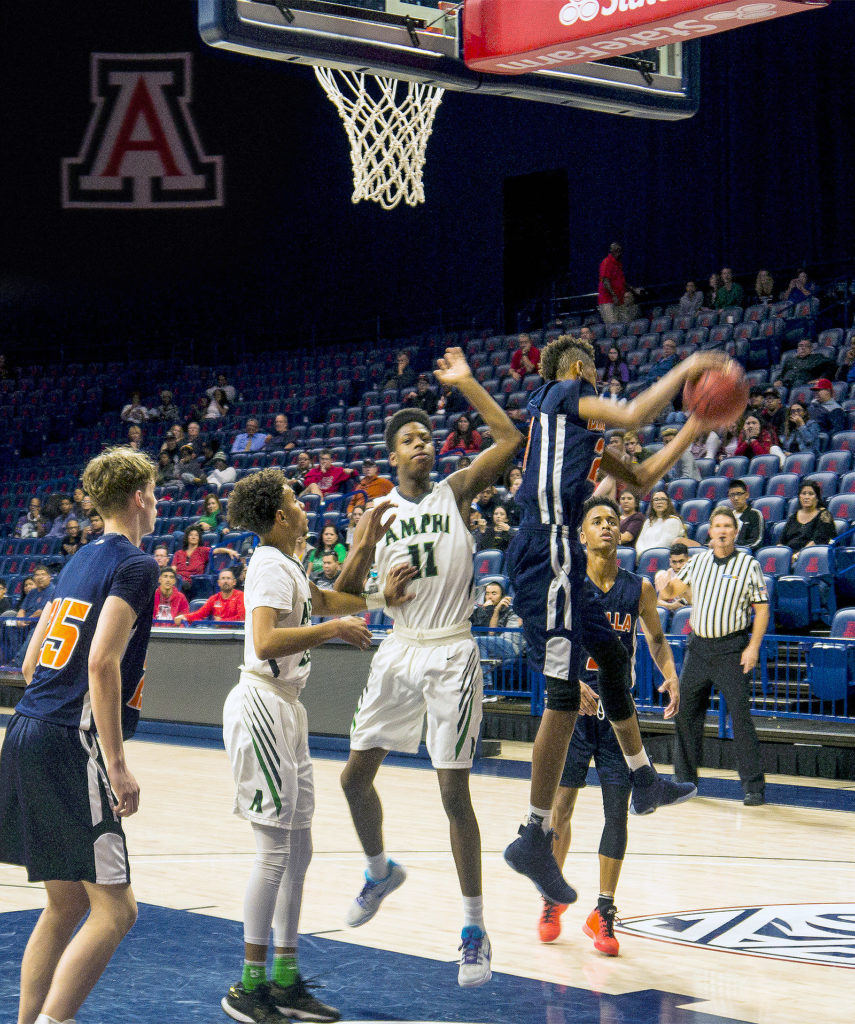 ---
PARENTS – HERE IS YOUR CHANCE TO BUY AN AD IN THE MLK BASKETBALL CLASSIC PRINTED PROGRAM
Support your favorite student, athlete, band-member, cheerleader, or dance team member and the Coaches for Charity mission by purchasing a commemorative ad.  Download the form HERE and return it by the advertising deadline of January 5, 2018.  Thank your for your support.
For more information or for help designing an ad please contact William Ackerley at bill@ackerleyadvertising.com
---
RETURN TO WHAT WE DO